Timber Buildings – Cabins and Installations
Abwood produce and market an extensive range of unique styles of timber buildings at our premises in Wicklow and Carlow, often working with our customers to design their perfect building.
Abwood have been building timber homes for over 30 years.
Our timber homes can be custom built to your own specifications. We build everything from small units suitable for home offices, teenage retreats, utility rooms etc. to dwelling houses and larger buildings.
A wooden home can offer you the home of your dreams without any compromises, and is a lot faster to construct, more economical to run as it naturally requires less heat to keep the house warm over those winter months.
The homes we build are beautiful, unique, energy efficient and cost effective to run, and are constructed in accordance with current Building Regulations
To give you an idea of what we can do, simply get in touch and we can show you some of the homes we have built as well as demonstrate the endless flexibility you have when designing your home. We are happy to quote you on your own proposals on receipt of a drawing.
Welcome to Abwood and our custom made timber buildings, manufacturing to suit individual design & requirements. Our buildings are bespoke and can be made to any dimensions – from a small garden room, office pod, gym or children's playroom to a 3-4 bedroom timber home. We work directly with the client designing the layout and finish that suits the individual space available. We also offer a site visit as standard, following which we prepare a detailed quote and drawings.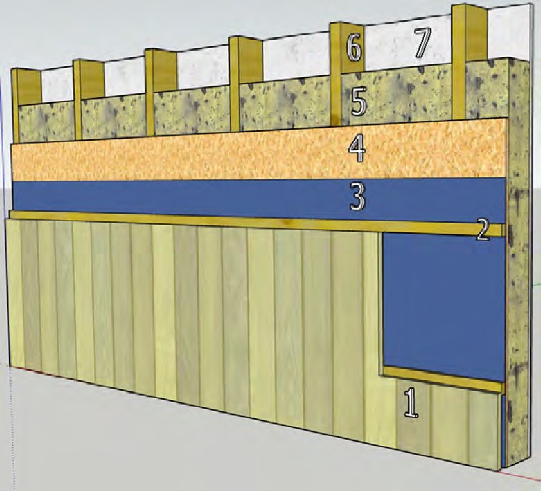 External walls are constructed as follows:
Building Material
19mm Thick Pressure Treated Timber Cladding
32mm x 16mm Timber Baton
Breathable Moisture Barrier Lining
12mm OSB Board
100mm Acoustic Earthwool Insulation
100mm x 44mm Pressure Treated Frame
Skimmed plasterboard Interior
Insulation
Insulation to the floor, ceilings and side walls comes as standard using 100mm thickness Earthwool. This is a high quality thermal insulation made from recycled glass fibres bonded by renewable bio-based materials (instead of the traditional petroleum based binders). Earthwool contains none of the phenol, formaldehyde, acrylics or dyes found in other glass wool products, is non-combustible and does not absorb atmospheric moisture. It is ranked as environmentally friendly as sheep's wool.
Roofing Materials
As a standard finish we use Galvanised box profile roofing available in either dark green or grey. Further roofing options are available including a Spanish tile effect in plastic coated steel (available in a variety of colours), or a tegral tile finish.
Windows & Doors (2 options, both available in a wide variety of colours) Double glazed PVC
Aluminium (which can include a bi–folding mechanism).
Timber cladding (3 options)
Horizontal 145mm x 20mm pressure treated weather sheeting
Vertical cladded pressure treated tongue & grooved (95mm x 19mm), secret nailed Vertical cladded Cedar (95mm x 19mm), secret nailed.
Electrics & Plumbing
We work with registered & qualified contractors and can quote to include for electrical and plumbing works which may be required.
To discuss your requirements further please contact our office on 01-2810109 or email one of our sales team – sales@abwood.ie
Get In Touch About Your Project