Welcome to Abwood and our custom made timber buildings, manufacturing to suit individual design & requirements. Our buildings are bespoke and can be made to any dimensions – from a small garden room, office pod, gym or children's playroom to a 3-4 bedroom timber home. We work directly with the client designing the layout and finish that suits the individual space available. We also offer a site visit as standard, following which we prepare a detailed quote and drawings.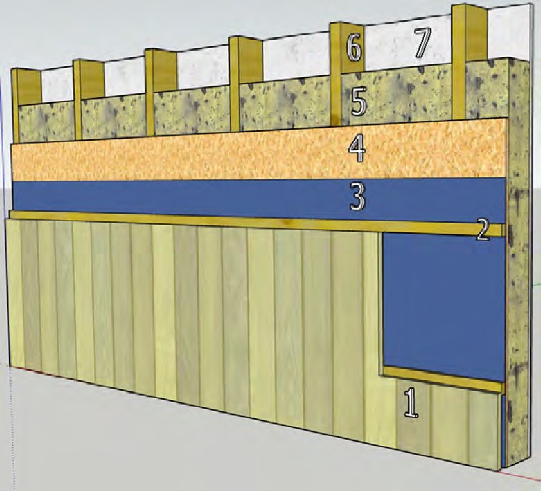 External walls are constructed as follows:
Building Material
19mm Thick Pressure Treated Timber Cladding
32mm x 16mm Timber Baton
Breathable Moisture Barrier Lining
12mm OSB Board
100mm Acoustic Earthwool Insulation
100mm x 44mm Pressure Treated Frame
Skimmed plasterboard Interior
Insulation
Insulation to the floor, ceilings and side walls comes as standard using 100mm thickness Earthwool. This is a high quality thermal insulation made from recycled glass fibres bonded by renewable bio-based materials (instead of the traditional petroleum based binders). Earthwool contains none of the phenol, formaldehyde, acrylics or dyes found in other glass wool products, is non-combustible and does not absorb atmospheric moisture. It is ranked as environmentally friendly as sheep's wool.
Roofing Materials
As a standard finish we use Galvanised box profile roofing available in either dark green or grey. Further roofing options are available including a Spanish tile effect in plastic coated steel (available in a variety of colours), or a tegral tile finish.
Windows & Doors (2 options, both available in a wide variety of colours) Double glazed PVC
Aluminium (which can include a bi–folding mechanism).
Timber cladding (3 options)
Horizontal 145mm x 20mm pressure treated weather sheeting
Vertical cladded pressure treated tongue & grooved (95mm x 19mm), secret nailed Vertical cladded Cedar (95mm x 19mm), secret nailed.
Electrics & Plumbing
We work with registered & qualified contractors and can quote to include for electrical and plumbing works which may be required.
To discuss your requirements further please contact our office on 01-2810109 or email one of our sales team – sales@abwood.ie